Flowers & Plants
Seasonal Flowers and Plants
Fresh Picked Bouquets
All through the season you will find a nice selection of fresh picked flower bouquets, artfully arranged and ready to take home with you. What a nice way to brighten up your dinner table wile you dine on the fresh produce you have also picked up at Abers Acres.
Pick Your Own Bouquet
What fun it is to wonder through our flower garden and compose your own lovely flower how. bouquet. We have a nice selection of flower varieties. Let your creative talents show.
Hanging Baskets
During the entire season we have a selection of hanging flower baskets, from local growers, available for purchase.
Herb Plants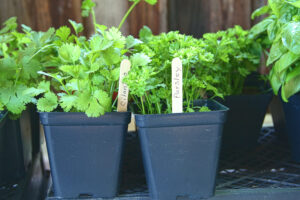 In the late spring/early summer we offer a number of potted herb plants for planting in your garden. All of the basics are available as well as a few you may not be familiar with.
Garden and Bedding Plants

In February we start gearing up for the next growing season. Several of the cut flower varieties as well as pepper, tomato and eggplant transplants are started. Over the next 3 months we start approximately 150 flats of over 100 varieties of vegetable, herb and cut flowers to be grown on our farm.
After the fields have been filled we offer the extra transplants for sale to our customers looking for quality, organic transplants for their home gardens. Supplies are limited though and they are sold on a first come basis.
Fall Mums
As Fall approaches you will find lovely fall mums in a variety of colors available for sale. These are great to take home to add a nice touch of color to your door step or yard.
 
---
 

Hours
---
The farm stand is OPEN!
884 Route 394, Kennedy, NY
 info@abersacres.com
716-267-2431
Mondays - Saturdays: 10 am - 5 pm
Sundays: 10 am - 5 pm 
---
Sales Room: Closed for the season.

---
~
U-Pick

~

U-Pick Blueberries and Red Raspberries
are open.

Come to the stand at
884 Route 394, Kennedy, NY

Bring your own containers to take home your blueberries or red raspberries.

Hours: Mondays - Saturdays: 9 am - 6 pm
Sundays: 10 am - 5 pm 

$3.50 a pound for U-Pick Blueberries

$6.50 a pound for U-Pick Red Raspberries
---