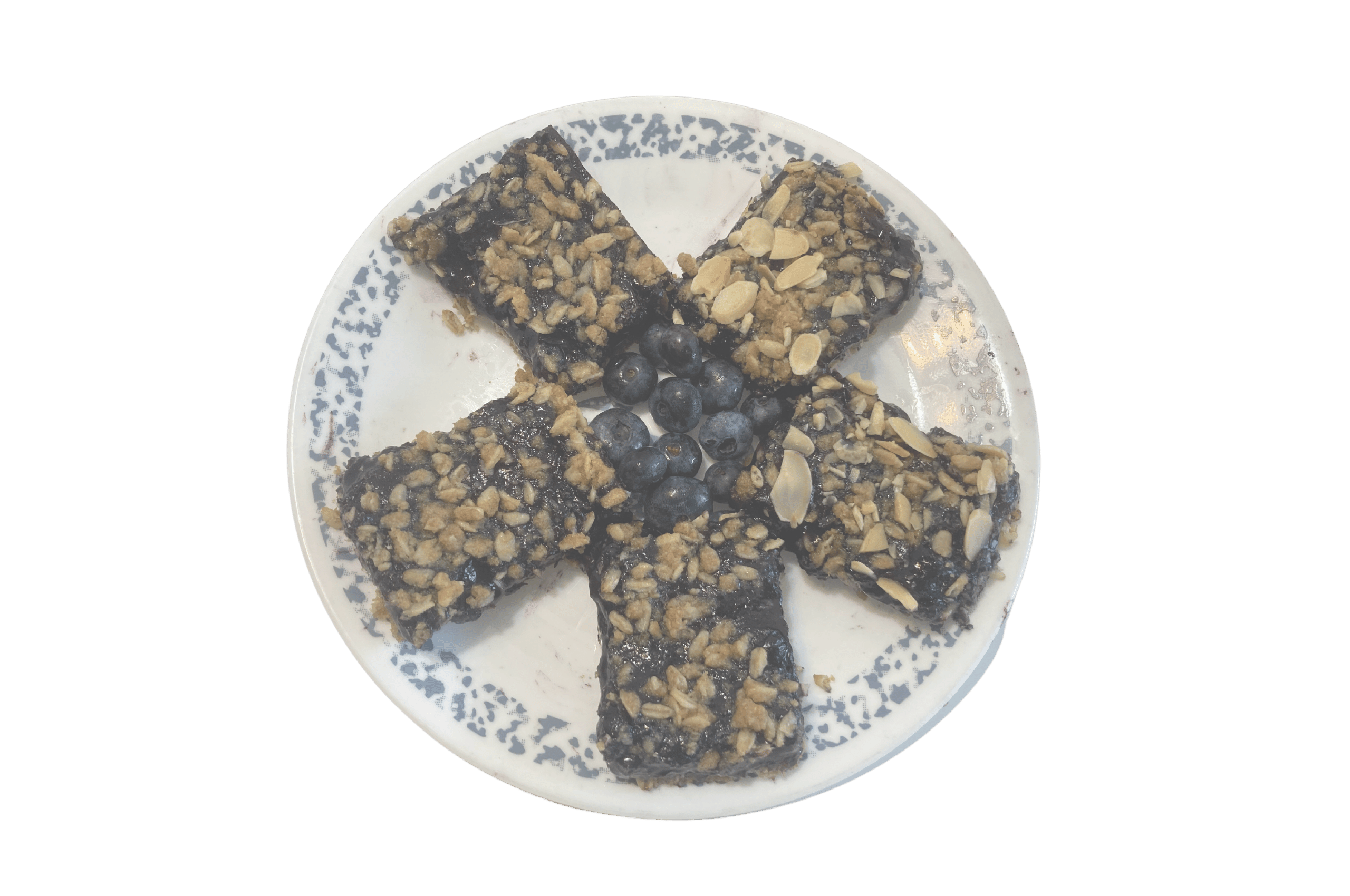 Are you looking for a blueberry recipe? 
At Abers Acres, we have three ways you can buy organic blueberries from us. 
You-Pick during the u-pick season, where you pick your own fresh blueberries directly from our fields. 
Already picked blueberries from our farm stand or one of the farmers' markets we attend.
These blueberries are picked fresh daily.
Frozen blueberries from the farm stand and sometimes from the sales room once the stand closes in the fall. 
These blueberries get frozen when there is an abundance of blueberries at the peak of the blueberry season.  
Regardless if you use fresh or frozen organic blueberries, the following recipe is a must try. 
Supplies needed: 
Sheet cake pan 17″ x 12 x 1
Measuring Spoons
Measuring Cups
2 mixing bowels
Fork or spoon for mixing ingredients together.
Pan to heat blueberry mixture on the stove top.
Ingredients Needed: 
1 3/4 cups uncooked oats (quick or old fashion)
1 1/2 cups flour
3/4 cup brown sugar
1/2 cup chopped nuts (optional) 
extra nuts to sprinkle on top (optional)
1/2 teaspoon baking soda
1/2 teaspoon salt (if using unsalted butter)
3/4 cups butter melted
extra butter to grease the pan
4 cups fresh or frozen blueberries
1 cup granulated sugar
1/3 cup water
1 tablespoon water
1/4 cup organic cornstarch (flour may be substituted)
1 tablespoon lemon juice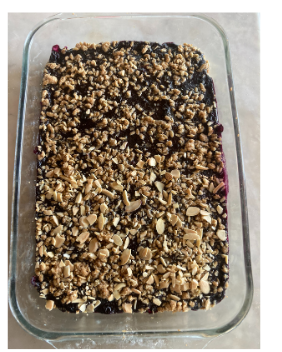 Directions:
Preheat oven to 350 degrees.
Butter pan and set aside.
Combine the following in one bowel: Oats, flour, brown sugar, nuts (optional), baking soda, salt. Mix until crumbly.
Save 3/4 of a cup of this mixture for later use.
Press the remaining mix into the bottom of your cake pan.
Bake for 10 minutes at 350 degrees. Your crust will be partially cooked. 
On the stovetop over low to medium heat, combine granulated sugar and water until the sugar melts.
Add blueberries, bring mixture to a boil.
While stirring, simmer 2 minutes uncovered. Removed from heat.
In a separate dish combine lemon juice, organic cornstartch (or flour) with 1 tablespoon water.
Slowly add lemon juice mix to the blueberry mixture. 
Stir as it thickens. 
Once blueberry mix thickens pour it over your partially baked crust. Sprinkle the remaining 3/4 cup of oatmeal mix on top.
Sprinkle optional nuts on top for a crunchy taste.
Bake 18 to 20 minutes at 350 degrees, until golden brown on top.
This recipe makes about 24 bars depending on how large you cut them.
You can easily double or cut the recipe in half depending on your needs.
Once cooled to the touch cut and serve.
If you happen to have any bars left over store them in your refrigerator for best keeping.
Enjoy!